Piping Installations
We provide and design stainless steel piping and HDPE piping installations with precision and care. A solid piping installation ensures the safe operation of your equipment which will lead to low maintenance and the extension of the assets life.
Need HDPE Pipe Installation?
Enter your details and we will call you back right away.
Benefits Of HDPE…
HDPE (high-density polyethylene) pipes are reliable, high quality pipes and fittings that are lightweight and easy to install.
Operate and Harsh Temperatures
Resistant to most Chemicals
Media and control line installation.
Piping installation and delivery.
Power plant piping and BOP.
Piping materials supplier.
Engineering and implementation of power plant expansions.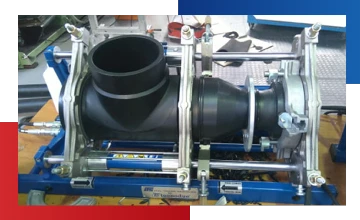 Butt Welding
Butt welding is a welding technique that is used to connect the parts of pipes that are parallel to each other, and don't overlap. A butt weld is one of the most versatile types of weld joint designs. The joint is formed by placing two pieces of metal, end-to-end, and then welding along the join.
RTC Control Systems (Pty) Ltd proudly owns and operates a butt welding machine, and we proudly provide this service to our valuable clients.
Quickly becoming Africa's most trusted industrial electrical company.
We service the whole of South Africa and have recently completed work in Ghana, the United Kingdom and currently doing work in the United Arab Emirates.
To whom it may concern, Letter of recommendation on services and supplies from 2016 to date. Well planned, scheduled and excellent execution of major projects. Satisfied work done first time with no come backs, High priority on health and safety, Assistance quick and fast on call outs for breakdowns, Great supply on electrical components with a minimum lead time, Highly skilled and trained staff, Excellent communication with supplier, Admin accurate and well organized, Fare prices.
Ansie de Kock
Alpla Packaging SA (Pty) Ltd
Who do you carry out work for?
We carry out work for industrial and commercial customers.
What type of work do you carry out?
We carry out all industrial electrical work which includes installation, maintenance, inspection and testing work. We undertake any task whether small or large. We pride ourselves on being a turnkey business.
What areas do you cover?
We are based in Randvaal but our services are available to customers throughout South Africa.
What are your prices?
Our prices vary according to the amount of work that needs to be done. After a site visit and inspection has been performed a formal quotation will be sent to the customer. We strive to offer competitive rates whilst ensuring that we maintain our strict safety and quality standards.
Are you insured?
Yes, we have a commercial insurance portfolio which includes a public liability policy as well as an open annual contractor all risk policy. These documents are available on request.